iSenpai Debuts on the Inc. 5000
iSenpai Debuts on the Inc. 5000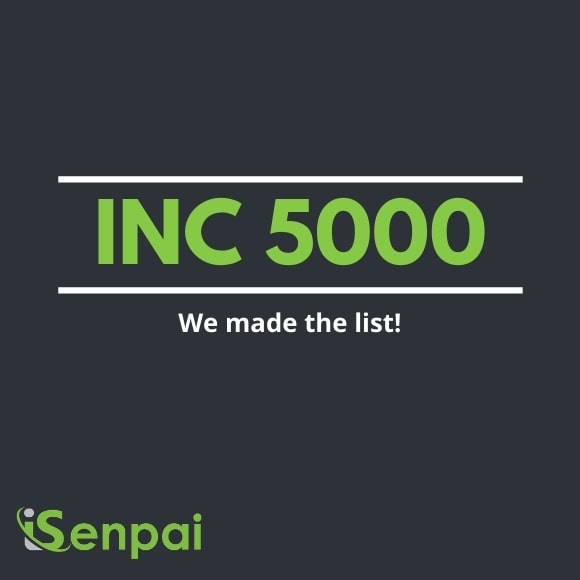 iSenpai joins the Inc. 5000:
      Since its founding in 2012, iSenpai has grown from a husband and wife team to over 50 employees across the nation, taking on the most challenging jobs in agile development, analytics, and cybersecurity. This year, iSenpai made its debut on the Inc. 5000 list, the most prestigious ranking of the nation's fastest-growing private companies. The list represents a unique look at the most successful companies within the American economy's most dynamic segment–its independent small businesses.
      Founder and CEO Tabby Mitchell says she's looking forward to even more significant strides in the future. "Debuting on the Inc 5000 in 2020 is beyond perfect for all of us at iSenpai. The underlying founding mission of our innovative cyber company is to end childhood blindness. Our mission of vision is literally why my husband and I started iSenpai while working in global defense, IT infrastructure, and national security. I'm confident iSenpai isn't stopping at 3687," said Mitchell.
      Private, for-profit companies giving to charities or having philanthropies is nothing new. However, over the last several years, increasing numbers of entrepreneurs and private business owners have decided that they shouldn't have to pick between being a non-profit enterprise or focusing solely on the bottom line. To that end, there is an ever-increasing number of businesses that are "profit-for-purpose" or "social businesses." These company's founders, owners, and employees believe companies have an obligation not just to a healthy bottom-line, but to their communities and society as a whole. While they don't meet all the requirements for non-profit status and protections, they are still focused overwhelmingly on a positive cause that extends beyond just making money.