iSenpai Introduces Free 508 Compliance Verification Solution
iSenpai Introduces Free 508 Compliance Verification Solution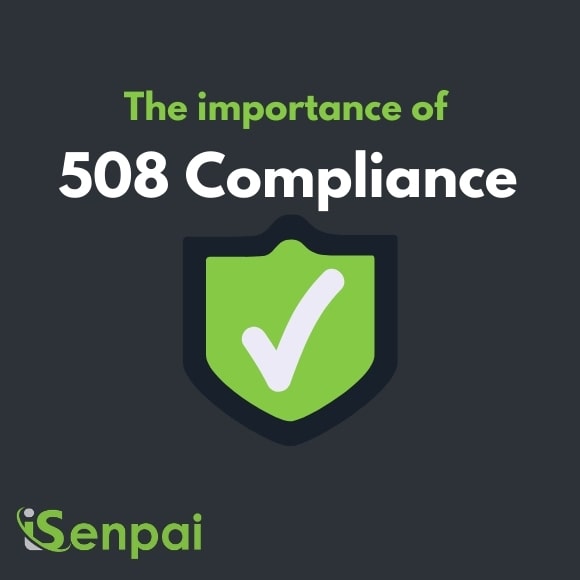 Introducing iSenpai's 508 compliance testing tool:
      The foundation of iSenpai heavily emphasizes the importance of accessibility and the rights of those with disabilities, specifically blind individuals, to be included in society. 508 Compliance primarily focuses on computer technology and more specifically the Internet, in order to make websites and the internet in general more accessible to those with disabilities. This standard for web accessibility is important due to the fast paced growth of reliance on the Internet in almost every aspect of society. Opportunities are automatically taken away from those with disabilities if website owners do not prioritize 508 Compliance, these opportunities range from education, commerce, career opportunities, communication, and even gaining resources to improve their daily lives. The 508 Compliance standard compels website owners and businesses to "develop, procure, maintain, and use electronic information technology" to afford those with disabilities the same access and experience with the Internet that those without disabilities enjoy.
      iSenpai is motivated by its mission to make the Internet a more accessible place for blind and disabled individuals to integrate in today's society. As a company, iSenpai funded development by leveraging college interns and its own developers to create a free publicly available tool focusing on reporting 508 Compliance for associated standards and requirements. This tool analyzes any provided website and calculates results based upon the requirements surrounding 508 Compliance standards. The tool features results of an accessibility score, focusing specifically on what websites are easiest for screen readers to use. "iSenpai's 508 Testing Tool" is meant to be a free, reliable, and easy tool for families and blind individuals to use in order to test website accessibility.